Florida Securities and Investments Litigation Blog - Who is a liable for violations of the Florida Securities and Investor Protection Act?
Posted July 9, 2016 in Florida Securities Litigation
What is the definition of a "seller" under Florida's securities laws?
Most people are aware that there are federal laws that govern securities. But, many don't realize that Florida also has securities laws.
In Florida, the securities laws, known as the Florida Securities Investor Protection Act (FSIPA) and sometimes referred to as Florida's "blue sky laws" are administered by the Florida Department of Banking and Finance and can be found in Florida Statutes Chapter 517.  
Under Florida, there are two easy ways that a person can violate the statutes and be susceptible to civil liability: (1) by selling an unregistered security and (2) by engaging in securities fraud.
The first question people often have is "what is a security?"
In Florida, a "security" is broadly defined to include many different investment vehicles. For a complete list, see the definition found in § 517.021(22), Fla. Stat. (2015).
"[W]hether a particular investment constitutes a security depends on the facts and circumstances of each individual case." Rudd v. State, 386 So.2d 1216, 1218 (Fla. 5th DCA 1980). The definition of a "security" is extensive and includes an "investment contract," a "beneficial interest in title to property, profits, or earnings," an "interest in or under a profit-sharing or participation agreement or scheme," and a "note," among other transactions. See § 517.021(21)(a)-(w), Fla. Stat.


What is the definition of a Seller?
Surprisingly, Florida has not defined the term seller. The legislature has defined the term "sale" and "sell," but the definition is only marginally helpful:
"Sale" or "sell" means any contract of sale or disposition of any investment, security, or interest in a security, for value. With respect to a security or interest in a security, the term defined in this subsection does not include preliminary negotiations or agreements between an issuer or any person on whose behalf an offering is to be made and any underwriter or among underwriters who are or are to be in privity of contract with an issuer. Any security given or delivered with, or as a bonus on account of, any purchase of securities or any other thing shall be conclusively presumed to constitute a part of the subject of such purchase and to have been offered and sold for value. Every sale or offer of a warrant or right to purchase or subscribe to another security of the same or another issuer, as well as every sale or offer of a security which gives the holder a present or future right or privilege to convert into another security or another issuer, is considered to include an offer of the other security.
§ 517.021(22), Fla. Stat. (2015).
Although "seller" is not defined by Florida's statutes or case law, Florida courts look to Federal courts for guidance because Florida's securities laws are patterned after the Federal securities laws. Messer v. E.F. Hutton & Co., 847 F.2d 673, 676 (11th Cir. 1988); In re Sahlen & Associates, Inc. Sec. Litig., 773 F. Supp. 342, 372 n. 40. (S.D. Fla. 1991). Under the Federal rule, a "seller" is one who 1) solicits the sale and, 2) is motivated by their own financial interests or those of the securities owner. Pinter v. Dahl, 486 U.S. 622, 623 (1988). 
In Pinter v. Dahl, the United States Supreme Court discussed the reason for imposing liability on a solicitor:
The solicitation of a buyer is perhaps the most critical stage of the selling transaction. It is the first stage of a traditional securities sale to involve the buyer, and it is directed at producing the sale. In addition, brokers and other solicitors are well positioned to control the flow of information to a potential purchaser, and, in fact, such persons are the participants in the selling transaction who most often disseminate material information to investors. Thus, solicitation is the stage at which an investor is most likely to be injured, that is, by being persuaded to purchase securities without full and fair information. Given Congress' overriding goal of preventing this injury, we may infer that Congress intended solicitation to fall under the mantle of § 12(1).

Pinter, 486 U.S. 622 at 646-47.
How much "financial interest" is required for a person to be a seller of securities in Florida?
Unfortunately, there are not many Florida cases on this subject. But, a traditional commission would obviously meet the definition of a financial benefit. In Scheck Investments, L.P. v. Kensington Mgmt., Inc., 2009 WL 1916501, at *3 (S.D. Fla. 2009), Plaintiffs moved for a summary judgment as to their registration claim under section 517.07, Florida Statutes. Evidence was presented that the defendants were sellers through an affidavit which merely stated that the defendants had received commissions for the unregistered securities. The Court concluded that each defendant sold the unregistered securities because no conclusion could have been drawn from their receipt of a commission other than because they sold the securities. Scheck Investments, L.P. v. Kensington Mgmt., Inc., 04-21160-CIV, 2009 WL 1916501, at *3 (S.D. Fla. 2009).
Every seller, and every director, officer, partner, or agent of a seller, who has personally participated or aided in the sale of a security is liable
It is critical to note that there can be multiple sellers and multiple agents or officers who are jointly and severally liable to the purchaser for a violation. Florida Statutes Section 517.211, which provides the remedies for the Florida Securities and Investor Protection Act provides, in pertinent part, as follows:
Each person making the sale and every director, officer, partner, or agent of or for the seller, if the director, officer, partner, or agent has personally participated or aided in making the sale, is jointly and severally liable to the purchaser in an action for rescission, if the purchaser still owns the security, or for damages, if the purchaser has sold the security
To better illustrate this point, here is a brief diagram: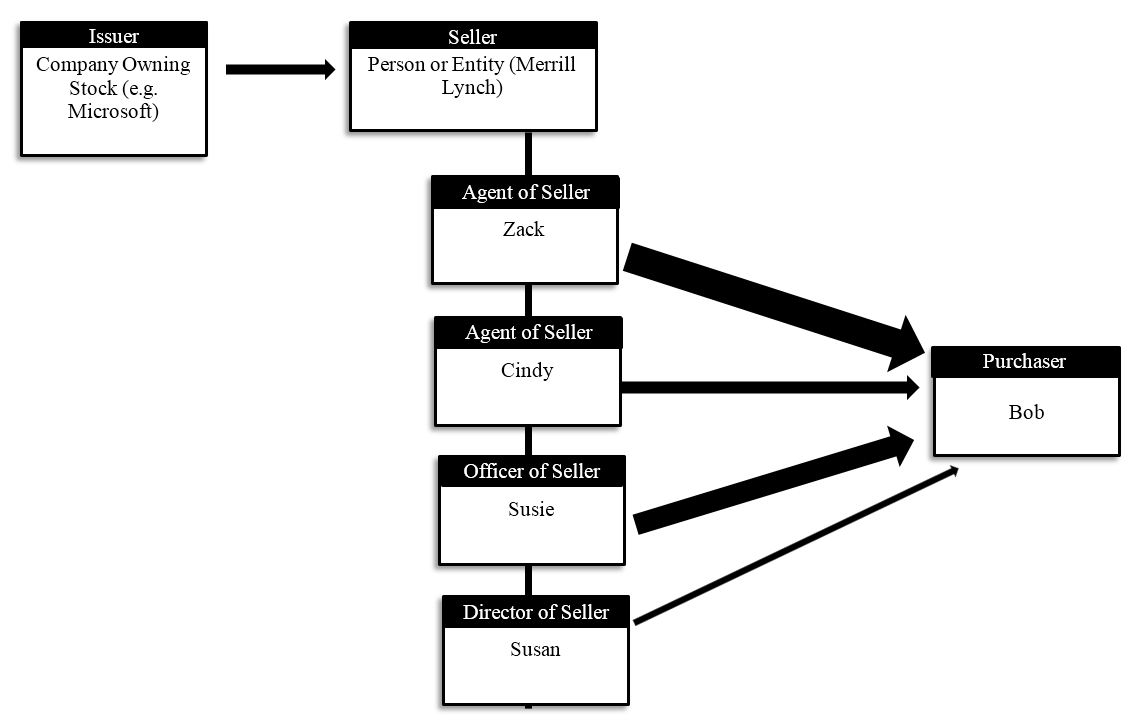 Under this illustration, the size of the arrow indicate the level of participation from each person. Zack participated the most, while Susan participated the least. The broker-dealer here, Merrill Lynch, is the seller. It actually purchases the security on behalf of Bob and transfers to title to Bob in exchange for a commission. The individual agents of the seller, Zack and Cindy are liable as agents of the seller who participated in the sale. Susie as an Officer and Susan as a Director of the Seller are also equally liable under the statute, despite Zack's overwhelming participation and Susan's minimal participation. 
What are the damages?
The damages are statutory. Because the purchaser is entitle to rescission or rescissionary damages, they get the full amount of money they paid for the security back. 
The short answer is that you can return the security (if you still own it) or get money damages (if you have already sold it).
Rescission: If you still have the security, Florida allows you to return it for a full refund, just like that ugly sweater you received over the holidays.  This includes the interest that accumulated while the broker held onto your money. Of course, if the security generated income for you, that amount is deducted from the damage calculation. And, once the seller returns the money, the seller gets the security back. See § 517.211(3), Fla. Stat. (2014).
Damages: If you have already sold the security, you are entitled to money damages. The amount of damages you are entitled to is calculated by taking the amount of money you paid including interest, minus the value of the security when you sold it, including any income received by you. § 517.211(4), Fla. Stat. (2014).
Does the seller have to pay attorney's fees?
A violation of Florida's securities laws allows the prevailing party to receive reasonable attorney's fees unless the court finds that the award of such fees would be unjust. § 517.211(6), Fla. Stat. (2015).
Contact Us:
PersanteZuroweste brings actions against brokers and broker-dealers. If you believe that you may need legal assistance regarding a Florida securities litigation matter, please contact us at (727) 796-7666.
About

PersanteZuroweste:
PersanteZuroweste has established a reputation as prominent trial lawyers serving clients throughout Florida. Our office is conveniently located to the Clearwater, St. Petersburg, and Tampa Bay communities.